Why Should You Join The MAPL?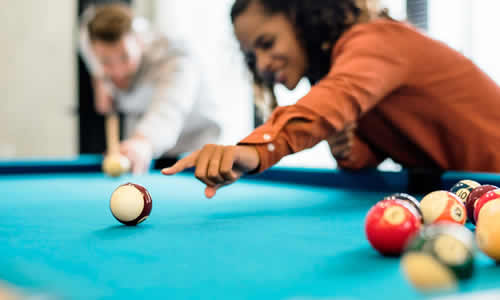 Free Pool Lessons
As a member, you'll have complete access to all the benefits that come with our billiard academy. Our structured, in-depth, hands-on course option is open to beginners and intermediate players. Note: This FREE optional program is available to all new registrants at signup.
Play Different Games
In the MAPL you are given the option to play in several different formats. These include but are not limited to 8-ball, 9-ball, and 10-ball. The league also conducts regular tournaments In which some of our advanced members can play 7-ball, straight pool, and one pocket.
Awesome Trips & Awards
The Megabucks Amateur Pool League awards cash, trophies, and all-expense-paid trips to the Amateur World Pool Championships held annually in Las Vegas, Nevada. Member's sanctioned benefits also extend to discounts on hotels, car rentals, and more.
The MAPL is for the beginner or intermediate pool enthusiast. If you have never held a cue before and would like to learn more about the sport, then we are here to teach you. On the other hand, if you already have some skills and would like to participate in some friendly organized competition, we got you covered there too.